No watches are valid as of Sun Sep 24 22:26:01 UTC 2017.MD 1670 CONCERNING SEVERE POTENTIAL...WATCH UNLIKELY FOR PORTIONS OF MINNESOTA



Mesoscale Discussion 1670
NWS Storm Prediction Center Norman OK
0446 PM CDT Sun Sep 24 2017

Areas affected...Portions of Minnesota

Concerning...Severe potential...Watch unlikely 

Valid 242146Z - 242345Z

Probability of Watch Issuance...5 percent

SUMMARY...Isolated severe hail and/or damaging wind reports are
possible late this afternoon into this evening. However, watch
issuance is not expected.

DISCUSSION...Widely scattered thunderstorms have developed this
afternoon near a cold front pushing east across Minnesota. Surface
heating ahead of the front and sufficient boundary-layer moisture
have promoted modest mixed-layer buoyancy (e.g., values generally
around 500-1000 J/kg), tempered by relatively poor mid-level lapse
rates. However, mid/upper southerlies around 40-50 kt are offering
adequate effective shear for occasional updraft organization, in
turn yielding a threat of isolated severe hail. Moreover, dry
mid-level air, well-mixed boundary-layer profiles, and
small-scale/localized bowing segments may foster a few stronger wind
gusts prior to substantive nocturnal cooling this evening. Despite
this wind/hail potential, a lack of more robust buoyancy is expected
to keep most storms below severe limits, likely precluding watch
issuance.

..Picca/Guyer.. 09/24/2017

...Please see www.spc.noaa.gov for graphic product...

ATTN...WFO...DLH...MPX...FGF...FSD...

LAT...LON   44129530 45829511 48119357 48249265 47719222 46449245
            43969393 43609459 43709509 44129530 


SPC 2000Z Day 1 Outlook


Day 1 Convective Outlook  
NWS Storm Prediction Center Norman OK
0241 PM CDT Sun Sep 24 2017

Valid 242000Z - 251200Z

...THERE IS A MARGINAL RISK OF SEVERE THUNDERSTORMS LATE THIS
AFTERNOON AND EVENING ACROSS PARTS OF THE UPPER MISSISSIPPI
VALLEY...

...THERE IS A MARGINAL RISK OF SEVERE THUNDERSTORMS ACROSS PARTS OF
THE SOUTHERN HIGH PLAINS...

...SUMMARY...
A few strong thunderstorms may impact parts of the upper Mississippi
Valley region and portions of the southern high Plains late this
afternoon and evening, accompanied by some risk for severe weather.

No changes needed with this outlook issuance.

..Peters.. 09/24/2017

.PREV DISCUSSION... /ISSUED 1125 AM CDT Sun Sep 24 2017/

...Synopsis...
Much of the U.S. will remain under the influence of an amplified
southern branch of split westerlies emanating from the mid-latitude
Pacific, with the axes of embedded large-scale ridging centered near
the Atlantic Seaboard and west of the Pacific coast, and large-scale
troughing near the Rockies.  Models suggest that the trough will
maintain a positive to neutral tilt with little eastward progression
through this period, but an embedded closed low will weaken and
become increasingly sheared while slowly accelerating northeast of
the eastern Great Basin, into the Wyoming Rockies by late tonight.

A cold front associated with the upper troughing has advanced
eastward through much of the northern Plains, and southward through
the central high Plains, with some further eastward/southward
progression expected through 12Z Monday.  It appears that at least
one impulse emerging from the upper trough may support some further
development of a frontal wave across parts of western and northern
Minnesota into northwest Ontario later today through tonight.

Due to the meridional nature of the flow across the central U.S.,
lower/mid tropospheric lapse rates are generally weak to the east of
the Rockies.  Additionally, high moisture content air (as
characterized by surface dew points around 70f and precipitable
water near 2 inches) is generally confined to portions of the Gulf
Coast states and lower Rio Grande Valley.  However, southeasterly
low-level flow will continue to advect increasingly moist air into
the southern high Plains, and a narrow tongue of mid 60s+ F surface
dew points may advect northward ahead of the cold front, across the
upper Mississippi Valley today through tonight.  This may contribute
to modest destabilization which could support some risk for vigorous
thunderstorm development with some severe weather potential.

...Upper Mississippi Valley...
A belt of strengthening southwesterly flow associated with the
impulse emerging from the upper troughing appears likely to remain
mostly to the cool side of the eastward advancing cold front front,
particularly in the mid/upper levels.  However, it still appears
that a narrow corridor of stronger pre-frontal boundary layer
heating and moistening could contribute to modest destabilization,
and a window of opportunity for vigorous thunderstorm development in
the presence of 30-40+ kt 850-500 mb flow.  At the present time this
seems most probable during the 23-03Z time frame across parts of
central/eastern Minnesota, where stronger storms may be accompanied
by mainly a risk for localized potentially damaging wind gusts.

...Parts of the southern high Plains...
At least lower/mid 60s surface dew points are expected to be
maintained on southeasterly low-level flow into/across the Pecos
Valley into the western slopes of the Davis/Sacramento Mountains of
southwest Texas and southern New Mexico.  Coupled with insolation,
this may contribute to the development of modest boundary layer CAPE
by late afternoon.  Beneath moderate to strong cyclonic,
southwesterly mid/upper flow, a window of opportunity appears to
exist for the environment to become conducive to the formation of an
isolated supercell or two early this evening.


SPC Day 2 Fire Weather Outlook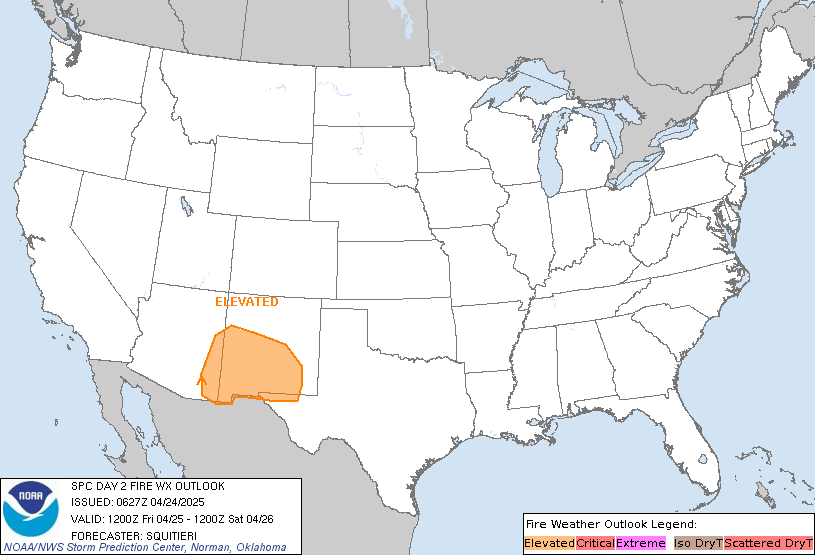 Day 2 Fire Weather Outlook  
NWS Storm Prediction Center Norman OK
0103 PM CDT Sun Sep 24 2017

Valid 251200Z - 261200Z

Previous forecast is on track and no changes are needed. Brief,
localized areas of critical conditions may occur across portions of
the coastal southern CA mountains and foothills, and trends will be
monitored closely for any potential upgrades in subsequent outlooks.
See discussion below for more details.

..Leitman.. 09/24/2017

.PREV DISCUSSION... /ISSUED 0132 AM CDT Sun Sep 24 2017/

...Synopsis...
The upper pattern will become slightly more progressive across the
western/central CONUS on Day 2/Monday as a persistent upper
trough/low centered over the Great Basin lifts northeastward into
the northern Plains and adjacent Canadian provinces. Modestly
enhanced (35-40 kt) northerly mid-level winds are forecast to remain
over much of CA on the back side of the upper trough. At the
surface, high pressure should remain over the Great Basin and
northern/central Rockies through the period, which will support a
continued weak to locally moderate offshore wind event across
portions of southern CA.

...Portions of the Sacramento Valley and Adjacent Coastal Ranges of
Northern CA...
Similar to Day 1/Sunday, a modest increase in northerly surface
winds will likely occur Monday afternoon across portions of the
Sacramento Valley and adjacent Coastal Ranges of northern CA as
enhanced winds at mid levels reach the surface through diurnal
mixing processes. Sustained winds up to 15 mph appear probable, with
stronger gusts occurring at higher elevations. RH values will once
again become lowered generally into the 10-20% range given an
antecedent dry low-level airmass and diurnal heating. These forecast
meteorological conditions combined with continued dry fuels support
an elevated designation across this region.

...Portions of Southern CA...
Elevated fire weather conditions will likely be ongoing across parts
of southern CA early Monday morning when the surface pressure
gradient will be maximized. Strong/gusty northerly to northeasterly
winds of 15-20 mph should weaken slightly through the day as the
surface pressure gradient relaxes somewhat. But, these winds should
strengthen once again late Monday night into early Tuesday morning.
RH values will likely remain lowered through much of the period
owing to downslope warming/drying effects, and overnight RH recovery
is forecast to remain poor. With fuels continuing to dry across this
region, an elevated area has been introduced across portions of
southern CA where confidence is greatest in a combination of locally
strong/gusty winds overlapping RH values lowered into the 15-20%
range. The lack of an even stronger forecast surface pressure
gradient and related winds precludes a critical designation at this
time.

...Please see www.spc.noaa.gov/fire for graphic product...